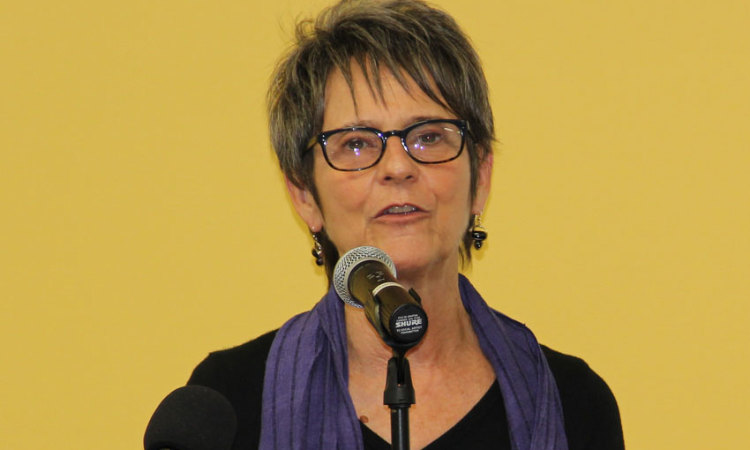 Penny Hess

Penny Hess is the chairwoman of the African People's Solidarity Committee (APSC), the organization of white people working in white communities under the leadership of Chairman Omali Yeshitela and the African People's Socialist Party. She has been a member of APSC since its founding by the Party in September of 1976.
APSC wins other white people to embrace the understandings of African Internationalism that all white people sit on a social pedestal of the oppression of African and other colonized peoples based on the slavery, genocide and colonialism that is the foundation of the capitalist system.
APSC organizes white people to participate in building the movement of white reparations to African people.
Chairwoman Hess is the author of Overturning the Culture of Violence, a book that documents the complicity of the white population in the historic and current oppression of and violence against African people.
Based on the political theory of Chairman Omali Yeshitela, Hess's book shows that Reparations and solidarity with the African Liberation Movement is in the genuine interest of all white people who are seeking a future of peace and justice.
Overturning the Culture of Violence is a well-document but passionate appeal to white people over to act on the belief that "life at the expense of African people and the rest of humanity is no life at all" and must be changed!
Under Hess's leadership the solidarity committee built successful economic Reparations institutions as fundraisers for the work of the African People's Socialist Party. These institutions include Uhuru Foods and Pies and the Uhuru Furniture Stores, institutions that are today under the direct control of the Party's Black Star industries and the nonprofit African People's Education and Defense Fund.
Hess has led the March Against Genocide, an annual event of the solidarity movement during the 1980s and 90s, and the African People's Solidarity Day events held every year for the past 10 years.
Along with her comrades in APSC Hess has participated in most of the major campaigns of the African People's Socialist Party over the years, including the successful Campaign to Free Dessie Woods, the campaign to win the Community Control of Housing Initiative on the Oakland ballot in 1984 and countless others.
Hess speaks at colleges and community events throughout the U.S., Europe and in Africa on the true history of the complicity of white people. She passionately believes that white people can and must play an important role bringing the struggle for Black People inside the belly of the beast under the leadership of the growing African Liberation Movement.