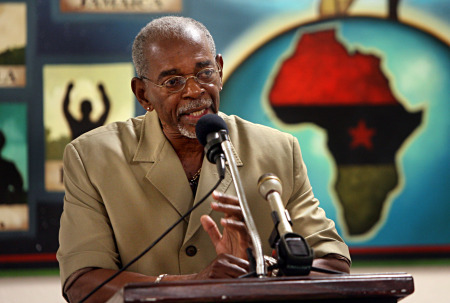 Reparations to African People
Chairman Omali Yeshitela and the African People's Socialist Party held the first World Tribunal on Reparations for African People in Brooklyn, NY in 1982. The panel of international judges at the tribunal ruled that the U.S. government owes African people in the U.S. $4.1 trillion for stolen labor alone. Eleven subsequent reparations tribunals have been held over the years. Chairman Omali published two books on this question: Stolen Black Labor and Reparations Now!" in 1983.
Chairman Omali has written about the demand for reparations:
"The African Internationalist worldview has always informed the work of our Party around the question of reparations to African people. Before our involvement in this question, the demand was forwarded primarily through legislative or judicial means. The masses of the people were not considered crucial factors. In other words, the success of the demand depended on the good will or integrity of the imperialist state that is responsible for imposing the conditions that caused the demand in the first place. Secondly, before the Party's involvement, the demand for reparations generally revolved around repayment for slavery.
"African Internationalism informs us that the issue is not simply the value of labor stolen from enslaved Africans. The fact is the entire capitalist edifice itself owes its existence and success to the theft of African labor and resources, not only during slavery but even more so subsequent to slavery where the rate of exploitation has become even greater.
"Therefore, we understand that the imperialist system cannot possibly repay African people in the truest sense. Imperialism can only attempt to bribe Africans into accepting some kind of payment to quiet the growing struggle by our oppressed and colonized community as it awakens to the bloody history of forcibly extracted value by the imperialists during the entire history of our relationship. This means not only during the time of "slavery," but also throughout the period of colonialism and now, during this period of trans-colonialism.
"Therefore, African Internationalism informs us that our mission is to make the reparations demand a mass demand. We have long recognized the need to take the question beyond the grubby, often bloodstained grasps of imperialist-serving politicians and legislators that are loyal to a system in which they are bought and sold like capitalist commodities. Nor should we leave the determination in the hands of a legal system that also rests on the pedestal of capitalist production born of and sustained by our enslavement.
"This is why in 1982 our Party organized the World Tribunal on Reparations for Africans in the U.S. This is why we built the African National Reparations Organization for the sole purpose of making reparations a "household name." We traveled the U.S for the next 12 years or so holding tribunals in different cities, where the African public was invited to hear and present evidence on the history and current existence of our exploitation and oppression that justifies the demand for reparations."
– See more at: http://www.asiuhuru.org/ontheground/apsp-usa/congress5/report07.shtml#sthash.DwRtXYHH.dpuf